It's a dilemma you may not have thought of before. You need a high-quality consumer-grade tablet for work but you sometimes need to use it in circumstances that are less than ideal. The quick solution? You could put it in a rugged case that would protect it against your challenging work environment. Or you could invest in a purpose-designed rugged tablet? Which would bring the most peace of mind?
Dell decided to put this to the test by putting a Dell Latitude 7220 Rugged Extreme tablet through its paces against an Apple iPad Pro 12.9 inch, a Samsung Galaxy Tab S7+, and a Microsoft Surface Pro 8 device. They set up test beds for each and captured Geekbench performance metrics at room temperature and at extreme hot and cold temps. They also tested the devices' resistance to drops, and to heavy rain and outdoor view-ability.
Overall testing:

Overall, in their testing, Dell found that extreme temperatures have up to 89.6% less effect on Geekbench 5 CPU performance scores and you can stay productive with a rugged device that's resistant and usable in the following conditions: weather extremes, multiple drops, heavy rain, and bright sunlight. Read on to see just how they set up the testing.
Testing Process
To demonstrate the capabilities of each device in the test environment, Dell's team developed personas and corresponding lifestyles that represented real-world work examples of the environments being tested. The personas and environments are: (see callout)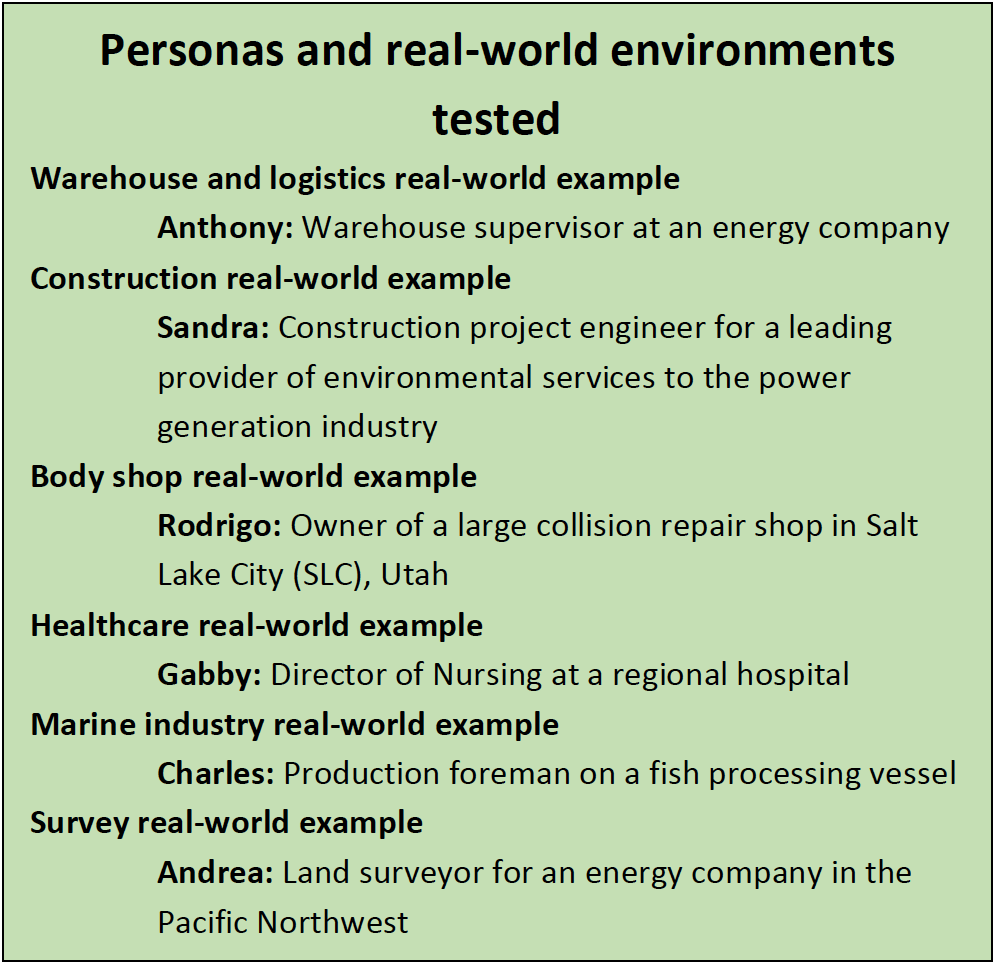 Weather Extremes
The vagaries of weather extremes across the U.S. are changing with unforeseen rainfall totals, record-breaking cold temperatures across the central states, and heat waves in parts of the country that are unused to air-conditioning, such as the Pacific Northwest. Businesses in areas such as Salt Lake City have to deal with super-cold winters with heavy snowfalls combined with extremely hot summers. All weather extremes can cause problems in warehouses or large building structures that may be climate-controlled, but their sheer size can make them hard to heat evenly and consistently or insulate against the cold of unexpected weather conditions.
The main challenges were the weather and temperature extremes. Cold weather (32°F and below) can cause consumer-grade tablet screens to freeze and internal components to become more brittle and fragile, shortening their lifespan. And heat (95°F and above) is worse than cold when it comes to rechargeable batteries in consumer-grade tablets because heat affects the chemical reactions of the batteries.
The testing simulated weather extremes of heat and cold. What is too hot and what is too cold for a tablet to function? In many jobs, people need to move from one environment to another and the tablet may not be able to cope with the temperature inconsistency. Tablets can be damaged if moved too quickly from a cold climate to a warmer one; in fact, the device will shut down in temps of less than 32°F (for the devices Dell tested). Plus, the rapid shift from a cold environment to a warmer one can cause condensation, leading to moisture within the tablet. Thus, a tablet needs to be robust in all weather conditions.

Drops
We all know not to drop our devices and that bad things happen when we do! Cracked screens can result in touch screen malfunctions; external debris that can damage internal parts; heat and lack of heat can drain the battery; and there is the possibility of injury when typing on that cracked screen. Healthcare settings bring another set of requirements. Mobile technology is required in today's hospitals as patient care is streamlined between desktop stations and portable devices that can go from patient setting to patient. Complications arise with constant disinfectant needs along with protective clothing and protective equipment. Using a tablet with gloves requires a glove capable touchscreen device. Drops are pretty commonplace in medical settings, and so the testing involved dropping each tablet a total of 26 times from a height of four feet. The Surface Pro 8 lasted through until the 16th drop, while the Latitude 7220 was the last to sustain an injury.
Water resistance and rain
To demonstrate water resistance, for the Marine industry setting example, Dell simulated rain-like conditions by placing each tablet under a shower for 10 minutes in various positions. In their testing, the consumer-grade devices were unusable in heavy rain because the touchscreens had trouble distinguishing between fingers, styluses, and water droplets. The Dell Latitude 7220 Rugged Extreme Tablet was the only device with a rain touch mode.
In terms of seepage, all the consumer-grade devices were affected
In terms of seepage, all the consumer-grade devices were affected, but the Samsung Galaxy Tab 7+ had water buildup under the screen protector portion of the case. Looks like our fisherman Charles needs to go with the most rugged device to use on board the boat!
Bright sun conditions
As we all know from our experiences at the beach or on a very sunny day, it's very hard to read the screen on a phone or tablet. The Dell Latitude 7220 has an outdoor-readable, anti-glare and anti-smudge polarized display. All of which makes it so much easier to read Google maps, check job orders and pull up pertinent product or service delivery information.
Our surveyor persona Andrea, in addition to a total station theodolite, uses Trimble Geospatial software, AutoCAD Civil 3D, and Microsoft Office applications to get her job done. A display with a lot of "nits"—a measure of luminance—will look bright and clear even on the sunniest of days and this is what Andrea needs.
For this comparison, the Dell team used a light meter to determine real-world nit brightness both while the devices were plugged in and while they were unplugged. The testers found that the Dell Latitude 7220 Rugged Extreme Tablet provided the highest number of nits when plugged in and when unplugged.
It's not rocket science, just common sense
The testing team found that the Dell Latitude 7220 Rugged Extreme Tablet performed comparably whether it was operating at room temperature or in the extreme heat and cold that certain skilled professionals face every day. The consumer-grade devices didn't fare so well. The Latitude 7220 Rugged Extreme Tablet also did better in drop, heavy rain, and outdoor readability comparisons.
The key to productivity and efficiency is having the right tool for the job—so if you don't sit behind a desk in an air-conditioned office, it might be time to invest in the Dell Latitude 7220 Rugged Extreme Tablet.
______________________________________________
Source: The Dell Latitude 7220 Rugged Extreme Tablet is better suited to skilled labor use cases vs. three consumer-grade tablets with rugged cases. Download source here.
Written by Jane Pratt