By David Sapienza, AVP of Content & Production at HTC VIVE
DCC is excited to be working on a virtual event with VIVE, exclusively for our members. Learn more about how VIVE uses virtual reality to immerse users and improve teamwork!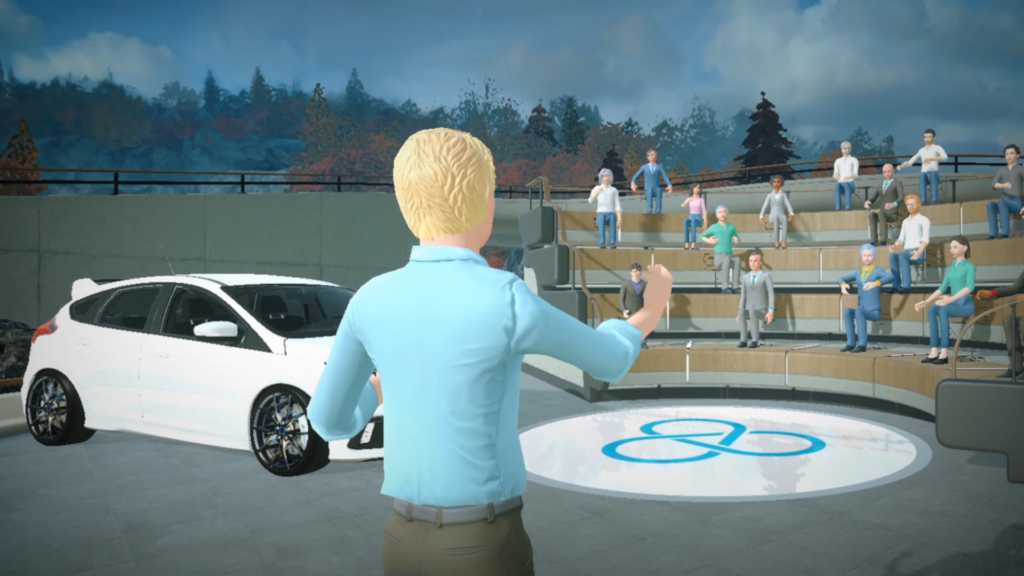 It's hard enough to achieve team cohesion when everyone works in the same office, but as a global company where teams are spread throughout the globe, it can be very challenging to maintain unity. A few years back we realized we needed a tool to drive collaboration and easily share our development work across time zones in order to create a true team culture.

In order to have a successful, cross-functional team, you need to have a clear vision with constant communication and ultimately, trust. Trust that your team members are listening to all voices and that everyone is working toward the same goal.

As AVP of Content Development & Production at Vive, I oversee the development for numerous XR projects across multiple teams. One day we may be working with a new unreleased SDK, while the next we are creating visuals for the Cosmos opening movie sequence. It's a fast-paced environment and the work is diverse.

This is where Vive Sync started.

Even before the current pandemic, we realized the future is rapidly becoming more global and more remote. Although there are benefits, we know from our development teams that remote work comes with isolation, a decrease in team chemistry and communication breakdowns. Tone in email is often misinterpreted, video calls can be draining, and even exacerbate the feeling that you are not with your team members.

So we asked ourselves, can VR help build team relations? What would a productive meeting space look like in VR? How do we build something that's focused on building a team culture, and what would it need to accomplish so that productivity isn't lost in a headset?
Increasing immersion with avatars
If our goal is to drive team connectivity, then our virtual representations must capture our identifying features (we were also careful not to wade too far into the "uncanny valley"), including facial features, voice, and body mannerisms.

To create your own Vive Sync avatar, you start with a selfie and customize from there. We want our avatars to be recognizable but still represent a digital space so hairstyles, facial features, body types, and clothing options are all customizable and we will continue to add more customization options over time.

In addition to the look of your avatar, what is equally important is to ensure that your avatar's face and body move realistically. In Vive Sync when you talk, your mouth and eyes move naturally and mimic real-world facial movements. For folks with Vive Pro Eye and its integrated Tobii eye-tracking technology, your avatars will track your eye movement as well. Furthermore, we have developed our own robust full-body IK tracking system so you can be expressive through natural body language movements. All of this is aimed to deliver clearer communication and to build stronger relationships with your team.
Staying productive in VR
Productivity is key. Meetings are costly.

If we were going to build a meeting app, then we needed to make sure a meeting in VR was effective, so integration with existing business tools was critical. Just being present in VR is great, but to be productive you need access to your files. In Vive Sync you can synchronize files with OneDrive so that PowerPoints, PDFs, marketing videos, or 3D models can be synced and published easily to your virtual meeting space.

Another required feature of a meeting app is the ability to take notes, record the outcome, and to capture the outstanding questions. Early on in development, we ensured that users were able to use voice recognition to record their notes, annotate with our 3D pen, and take screenshots.

Since we allow users to link to a cloud drive, all of those notes and screenshots are instantly sent back to the cloud drive folder, so when a user is finished with a VR meeting all of their materials are already accessible on their PC.

When importing a 3D model into Sync you can move, rotate, and even scale it as large as your environment to review critical details of a design review or add some showmanship to your presentation. At this time we support FBX and OBJ files, as well as Unity Asset Bundles.

Free for businesses through 2020

Given the global pandemic, we view Vive Sync as a way to help businesses benefit from the tools that have made our teams so productive, engaged, and feel connected. So, throughout this open beta period, starting today, we'll allow businesses of all sizes to use Vive Sync for free. As of today, the platform can support up to 30 meeting participants per session.
What is next for Vive Sync?
We're just getting started with Vive Sync and we know there are additional features that we plan to implement quickly. Currently, our roadmap consists of extending hardware compatibility to non-Vive headsets, implementing host controls, and the ability to record full meetings sessions.

Your feedback will be critical throughout this period and we encourage you to help guide our feature roadmap for Sync. Comments or feedback can be sent to: sync_support@htc.com.

Sign up for the Vive Sync Open Beta: https://enterprise.vive.com/us/solutions/vive-sync/