Event Overview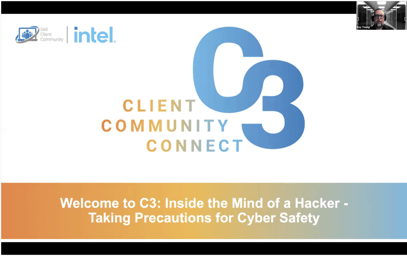 Our June 15, 2021 community event was our most attended event yet! We welcomed a new host, DCC member, Ray Young, who introduced Samy Kamkar, maker of the MySpace worm, Evercookie, and other exploits. Samy spent the remainder of the event sharing his hacking adventures and tips on how you can take precautions for your cyber safety.
Keynote: Samy Kamkar
Samy Kamkar is an American privacy and security researcher, computer hacker, whistleblower and entrepreneur. Samy Kamkar is the cofounder of Openpath Security, is a security researcher and author of the Myspace worm, the fastest spreading virus of all time. His open-source software, hardware, and research highlight the insecurities and privacy implications in everyday technologies, from the Evercookie which produces virtually immutable respawning cookies to SkyJack, a drone that wirelessly hijacks and autonomously controls other drones. His work has been cited by the NSA, triggered hearings on Capitol Hill, and has been the basis for security advancements across vehicles, smartphones, and other technologies.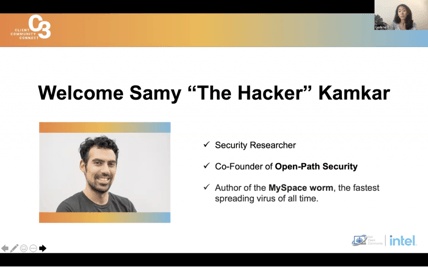 Resources
Samy's presentation included several resources on cybersecurity as well as discussions on a few case studies related to security, hacking, and cybersecurity. We share these resources below.
Case Studies:
Recommended Cybersecurity Tools:
Using a password manager like 1Password or LastPass, or if you want to be more secure but are okay with being inconvenienced, keeping your passwords locked in VeraCrypt
Using the firewall built into macOS or Windows, or adding an application based firewall like Lulu (macOS) or Windows Firewall Control (Windows)
BlockBlock for macOS also monitors and can prevent new things from being installed/run on startup

---
If you are interested in hosting our next C3 event, being on a technical webinar panel, or want to share your knowledge on a specific Dell client solution product line, we want to hear from you! Apply through our Dell Advocates page here.