Sustainability and environmentally friendly products should be an important part of any company's business strategy these days. While it's no secret that Dell has made an industry-leading effort to include sustainable technology and solutions throughout its product line, what may not be common knowledge is that it has made a commitment to help in the fight against the crisis created by ocean plastics.
Each year, an estimated 11 million metric tons of plastic waste enter the Earth's oceans polluting the waters and adversely affecting marine life. Dell has partnered with OceanCycle, a social enterprise focused on preventing ocean plastic pollution and improving livelihoods in coastal communities through certification and direct social interventions.
Over 80% of plastic in our oceans starts on land, and research shows that what does get in the water sinks to the bottom and is difficult to recover from the ocean floor. Since most ocean plastic cannot be recycled and the problem is continuing to worsen, awareness and prevention are the key battle tactics in hindering the plastic from entering the water in the first place.
It's important to understand the difference between ocean-bound plastic and ocean plastic. Plastic in the water becomes degraded by salt and light and attracts toxins and microorganisms. Not only endangering the marine life of our oceans, it also breaks into small pieces and mixes with other plastics making cleaning and sorting difficult and costly. Preventing plastics from reaching the oceans is key to OceanCycle's work, along with encouraging companies around the world to make better choices for their plastic footprint with less environmental impact.
The result of the partnership is a range of Dell carrying cases in which the outer fabric of the EcoLoop Pro series is made with 100% ocean-bound-plastic certified™ by OceanCycle. But, besides the use of ocean-bound plastic, the carrying cases include several other sustainable processes in their fabrication, including an eco-friendlier dyeing process and waterproofing process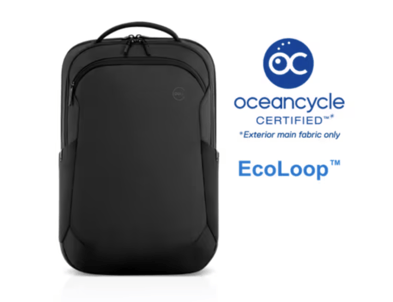 Dell's EcoLoop series is designed with the environment in mind and manufactured with select materials and/or processes that help reduce environmental impact:
Ocean-bound plastics sourced, collected, and processed for incorporation into the cases' exterior main fabric.
Solution-dyeing process for polyester that can generate up to 90% less wastewater, up to 62% less CO2 emissions and uses up to 29% less energy than traditional dyeing processes.
Post-consumer recycled PET (rPET) in the construction of the cases lessens the dependence on virgin materials made from fossil fuels.
Weatherproof coating on the fabric made from recycled PVB film recovered from used car windshields.
Recycled content packaging: Hang tags, hang loops, and plastic bags are constructed using 100% recycled content.
The EcoLoop series includes:
Backpacks, briefcases; and sleeves; designed for Dell Latitude 9000 and 7000 series, XPS and Precision; fits most Dell Laptops up to 15.6″
Dell Pro Series—Backpack, briefcase and sleeves designed for Dell Latitude 5000 series and Precision; fits most Dell Laptops up to 16″/17″.
Dell Pro Slim series—Slim designed brief case and backpack; designed for Dell Latitude 3000 series; fits most Dell Laptops up to 15.6″.
Dell EcoLoop Urban backpack; designed for Dell Vostro and Inspiron, and fits most Dell Laptops up to 15″
Additionally, Dell has other models that are designed for commercial and rugged applications and gaming use. Dell carrying cases are built with strong and durable materials, with great protection for your devices. The have a range of features and functionality that vary by model according to the purpose and preference, including: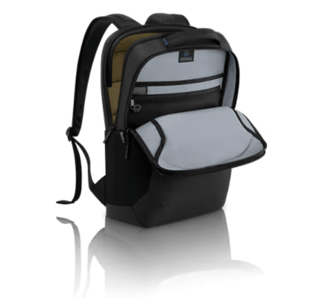 360-degree foam cushioning
Durable weather-resistant materials
Attaches to rolling luggage
In-bag charging pass through
Anti-scratch Nylex lining for laptop
Purpose-built organizers for keyboard, mouse, headset, and other tech accessories
TSA compliance
Reflective accents for greater visibility in low light
Easy to carry, and
Padded handle and shoulder straps
Whether you are in the market for a new carrying case for your laptop or just browsing, there is a new option for you to make your choice from and it is helping the planet!
Written by Jane Pratt
___________________________________________________
Sources:
Dell EcoLoop Pro Backpack | Dell USA