Have you faced the challenge of sunsetting an entire office-full of outdated devices, monitors, and peripheral equipment? You're likely to wonder if there's a better way to recycle or refurbish the equipment. As Dell Client Solutions customers, knowing how, where, and when to recycle devices is important. As a global community, there's even greater emphasis on protecting and bettering the world through recycling and reusable resources.
Since 1996, Dell has provided business recycling services when consumer and business products reach end of life. This has helped divert ewaste from landfills around the world. To learn more about this program, go to DellTechnologies.com/Recycle.
By recycling older computers, reusing metals and plastics, and incorporating renewable materials into its products, Dell is committed to environmentally sustainable practices. That's an important consideration for members of the Dell Client Community when making purchasing decisions. Emissions, packaging, parts and replacements, and carbon footprint are all important factors to consider when making not only a single device purchasing decision, but especially when looking to buy devices for an entire office or departments.
We've compiled a deep dive look into Dell's sustainability efforts below.
Sustainability Overview
"We believe no computer should go to waste, so we make them easy to repair and reuse and recycle when they reach end of life," said Katie Green, sustainability experience planner, Dell Client Product Group. "That includes using modular components with minimal glues and adhesives. As a result, 94 percent of Dell products can be recycled."
In her presentation, "Thinking Inside the Box: Designing Dell Products and Packaging for a Sustainable Future (Virtual Connect 2021), Green outlined other steps Dell has taken with its desktops, laptops, tablets and thin clients. "Our goal is to change the system, keeping products and materials in use for as long as possible," she said. "That is vital since only 20 percent of electronics are responsibly recycled and ewaste is growing rapidly throughout the world."
For example, Dell has pioneered the use of renewable bioplastics in the lids of the Latitude 5000 series and Precision 3560/3561 mobile workstations. "Our bioplastics are made from tall oil, a byproduct of the papermaking process that we are using to accelerate the circular economy," said Green. Overall, the product lids incorporate 71 percent recycled or renewable materials.
Reclaiming waste materials
Dell is leading the way on reclaiming carbon fiber used in aircraft bodies and other components for the Latitude 5000 and 7000 series, as well as the Precision 3000 series. "Carbon fiber makes our devices lighter and stronger – a winning combination for everyone," said Green.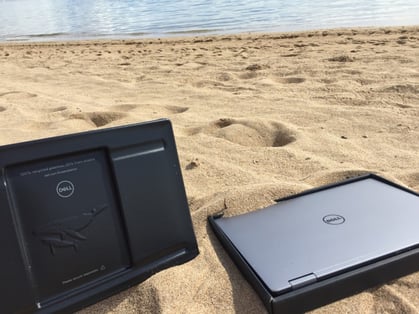 Dell is also taking a creative approach to the manufacturing process, and looking for ways to use discarded metals in its products. For instance, the OptiPlex 7090 minitower features hard drives made from recycled aluminum sourced from recycled PowerEdge Servers. "We have expanded Dell's partnership with measuring programs in the metals industry to better understand the supply line and trace materials that could be recycled," Green said.
Recognizing that 8 million metric tons of plastics enter the oceans every year, Dell collects plastics from beaches, oceans and waterways. That recovered waste is mixed with other recycled plastics to make product trays with 100 percent recycled materials. "In addition, our laptop packaging is made from 100 percent recyclable cardboard," Green added.
Measuring carbon footprints
Dell measures the impact of its products on worldwide carbon emissions and identifying new approaches to reducing their environmental impact. Dell now uses a PAIA (product attribute to impact algorithm) developed by MIT's Materials System Laboratory to perform product carbon footprints that take into account production materials, energy requirements and average product life. Some examples include:
A Moonshot Goal
In keeping with its commitment to advancing sustainability, Dell has set a "Moonshot Goal" for 2030 to reduce its environmental impact:
For every product a customer buys, Dell will reuse or recycle an equivalent product.
100 percent of packaging will be made from recycled or renewable material.
More than half of product content will be made from recycled or renewable material.
Dell's sustainability efforts continue to evolve and enhance as more research is conducted on recycling efficiencies and possibilities. The Dell Client Community is committed to keeping you informed about Dell's sustainability practices and helping you make the best purchasing decisions for your respective companies and industries.
"The impact of these initiatives will have compound effects on our progress as we close in on 2030 and beyond – so we achieve the sustainable, equitable and inclusive world we want to live in today and in the future."

– Katie Green, sustainability experience planner, Dell Client Product Group
---
To learn more about Dell's product sustainability initiatives, view:
"Thinking Inside the Box: Designing Dell Products and Packaging for a Sustainable Future"
Or, you can read Dell's FY2021 Progress Made Real Report:
https://corporate.delltechnologies.com/en-us/social-impact/reporting/fy21-progress-made-real-report.htm#pdf-overlay=//corporate.delltechnologies.com/asset/en-us/solutions/business-solutions/briefs-summaries/delltechnologies-fy21-progress-made-real-report.pdf
---
Make sure to attend our Sustainability webinar on September 9 to learn more from Katie and her team!